"BOOKED" W/ DONNA MEE
ABOUT DONNA MEE:
Donna Mee is a 35 year-veteran Makeup Artist, Educator and Beauty Entrepreneur. After honing her skills working in catwalk, print and television, she now specializes in beauty makeup for print and giving international educational tours. She is known for developing extremely advanced techniques and application skills known as 'The Donna Mee Makeup Methods.' She is considered the number one artist in corrective beauty makeup and one of the top beauty educators in the world. Donna is often referred to as the Beauty Prodigy due to her self-discovered methods and her extreme passion for generating successful artists through her training.
–
Some of Donna's resume credits include working with Arnold Schwarzenegger, Brendan Frazier, Cindy Crawford, Jennifer Tilly, Joanna Krupa, Judith Light, Kevin Costner, Mandy Moore, Prince, Queen Latifah, Rachel Hunter, Raquel Welch, REM, Steven Tyler, and Tony Danza. As well as working with top designers such as Christian Dior, Christian Lacroix, Gianfranco Ferre', Maggie Barry, Richard Tyler, Tommy Hilfiger, and Valentino. And the following print publications, Beauty Biz, Digital Photo Pro, GQ, Harpers Bazaar, In Style Weddings, Marie Claire, Martha Stewart Weddings, ME, People, Professional Beauty Magazine, Skin Inc., Vogue Italia, Women's Wear Daily.
–
Question 1: What are you currently reading or the last book you've read?
I have kind of a book fetish… I own several hundred beauty books that are in my library that I haven't gotten around to yet. Although I can tell you about most of them and quickly flip to sections that I reference occasionally in my teachings. And I've bought and been given stacks of specific books that I intend to read that I haven't gotten to yet. On everything from Cosmetic Chemistry and Entrepreneurism. But currently reading a book written by my 90-year-old friend, famous psychologist Frances Heussenstamm called, Blame It On Freud, A Guide To The Language of Psychology. And I'm also going through The Atlas of Beauty which a dear graduate of gave me for Christmas. It's filled with gorgeous real-life photos of women from every country in the world and their stories.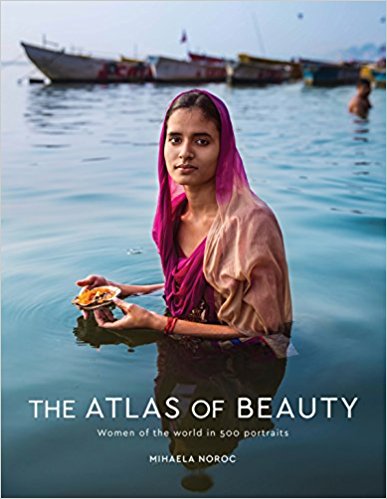 Question 2: What book impacted your life the most and why?
I'd have to say my first Makeup Book… I obsessed over it. I did every ridiculous 80's makeup on myself and others… It started my passion for the industry. Many decades later, I met the photographer that shot that book and he asked me to do a new makeup book with him… It was a huge full circle moment… But he pissed of the investor publisher with some unprofessional antics and it never came to fruition… Many lessons learned but another book deal will transpire at some point.
Question 3: If you were to write a book what would the title be and the name of the first 3 chapters?
Well, I've actually started writing MANY books… I wrote 11 different beauty books for Dummies… But the guy I signed the deal with never paid Dummies their licensing fee so after 1.5 years of working on them… Just another time the universe said… Not yet my dear. Besides those books, two additional favorites are those I've worked on the most. Beauty from Every Angle and The Beauty Conspiracies.
Question 4: What book do you recommend to all creative professionals?
I get asked this all the time. And because I own hundreds of beauty books… Everyone assumes I have many favorites. But I've yet to come across one that has the actual content that makeup artists truly want and need. Books are a great investment for inspiration and research, but useable content on techniques and advancing their skill is what everyone wants. And I just don't think it exists…. Yet. So as far as inspiration, I love Kevyn Aucoins books, and for inspiration & history… My favorites are Face of the Century, 100 Years of Makeup & Style Max Factors Hollywood Glamour, Movies & Makeup.
Bio Continued:
Donna is also responsible for discovering Make Up For Ever and bringing them to the United States which led to their abundant growth before being bought by Louis Vuitton/Moet Hennessy which also owns Sephora. She opened her makeup studio in 1995 followed by a makeup artist agency and a makeup brush line in in 1996, and launched her Academy 1997 which had the highest success rate percentage of working graduates than any other makeup school in the USA through 2014. In the fall of 2014, MEE INC Industry Workshops was launched to bring Donna's intensive training into 3-10 day workshops for those not able to spend five months at a time pursuing education.
She is known for her commanding presence and her ability to articulate complex science and theory in a way that is easily understood. Donna has a gift for painting a picture with her words, analogies and stories in which she delivers with conviction and humor. Her passion for beauty is evident and contagious as she passes out major 'light bulb moments' that positively alter the outcome of artists and beauty therapists work and success. Her training is considered imperative for those whom are serious about mastering their craft.
Her reputation as a top beauty expert has transitioned into writing numerous magazine articles, interviews, medical journals, as well as consultant work for industry related companies.
Follow Donna's journey at:
Email: donna@donnameeinc.com
YouTube: https://www.youtube.com/user/DonnaMeeInc
Instagra: DonnaMee_BeautyProdigy
Facebook: https://www.facebook.com/beautyprodigy
Websites:
http://www.DonnaMeeAcademy.com/